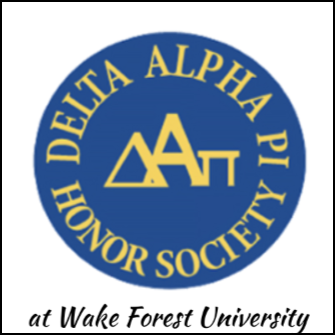 Delta Alpha Pi (DAPi) is an academic honor society founded to recognize high-achieving students with disabilities. This dynamic organization celebrates and supports academic achievement, leadership and advocacy for post-secondary students with disabilities.
The Theta Kappa chapter at Wake Forest University was inducted into the national organization in 2023.
Eligibility
Students initiated into Delta Alpha Pi International Honor Society must:
be a current WFU undergraduate student who has a documented disability or who self-identifies as an individual with a disability
have completed a minimum of 24 credits
have a cumulative grade point average of at least 3.10
show an active interest in disability issues and advocacy
Interested In Joining?
The application for the next DAPi class is now available until December 1, 2023.
For more information, email class@wfu.edu.
A Bit More About DAPi
Delta Alpha Pi Honor Society was founded in 2004 at East Stroudsburg University of Pennsylvania to recognize high-achieving college and university students with disabilities.
In addition to recognizing academic achievement, Delta Alpha Pi seeks to lessen and eventually eliminate the stigma and negative stereotyping that have been associated historically with disability. By working for an "aDAPtable world," the members of Delta Alpha Pi challenge society to view disability as an aspect of diversity, existing on a continuum throughout an individual's lifespan, and encourage the implementation of universal design, so that the environment (learning, physical, attitudinal), not the individual, adjusts to provide access to all individuals.
Students who become members of Delta Alpha Pi identify themselves as honor students who have a disability. By their open acknowledgment of their disability status, they serve as role models for other students with disabilities and advance the goals of Delta Alpha Pi on their campuses and in the community. By recognizing their academic accomplishments, we honor them and acknowledge their determination and perseverance.