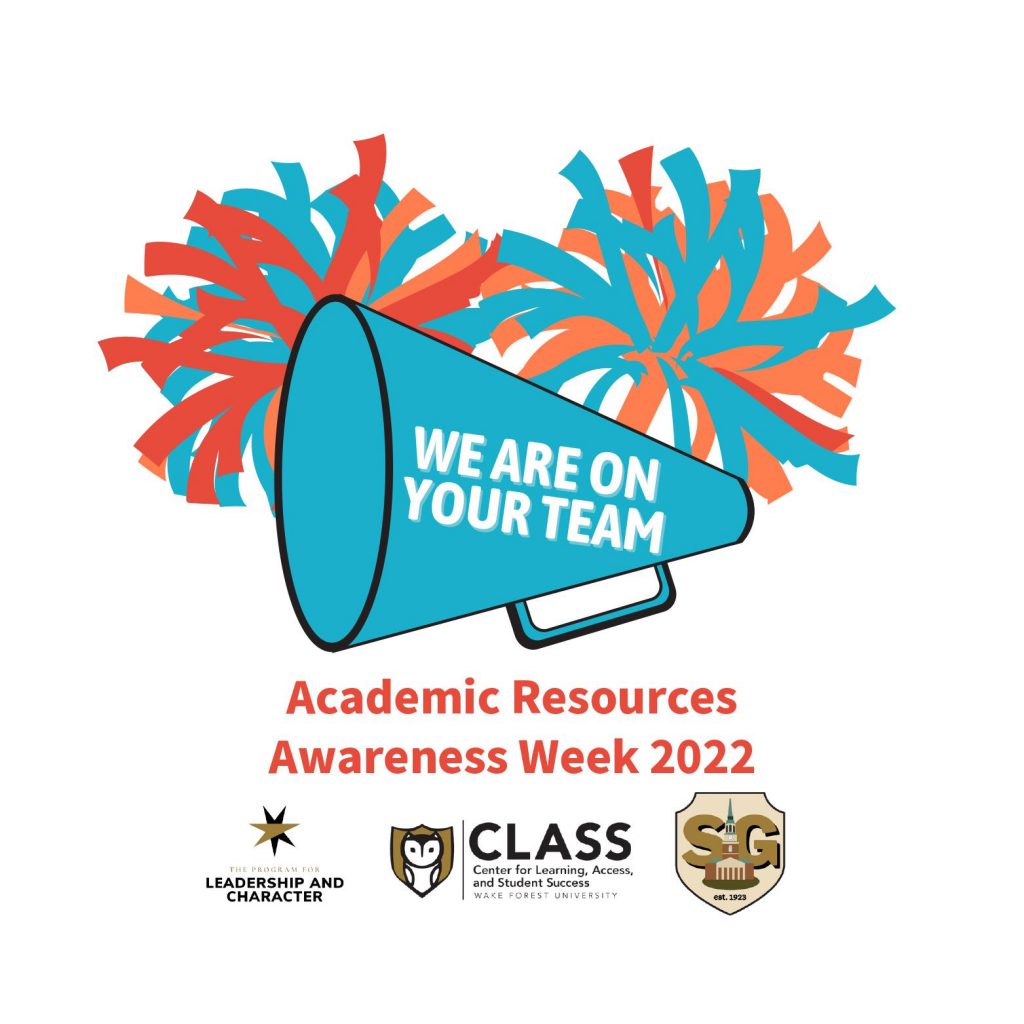 The goal of ARAW is to make students aware of all the free on-campus academic resources available to them and normalize their use. From peer tutoring and help centers to academic coaching, ZSR research sessions, and and more, Wake Forest offers a multitude of academic resources to help students along their learning journey.
2022 ARAW Event Line Up
Monday, October 24: ZSR Day
"You can do it. We can help. The ZSR Library"
Meet ZSR ambassadors, learn about our services and resources, and get some ZSR merch via the prize wheel!
Time: 9am – 9pm
Location: ZSR (by the help desk)
OWLS "Context Matters: Creating Accessible Digital Content"
Mini-workshop to hone your digital marketing skills. Free Wake t-shirt to all who attend.
Time: 4pm-5:00pm
Location Mac Lab at the Bridge in ZSR
Tuesday, October 25: Information Systems Day
"Technology Do-s and Donuts"
We'll highlight our many IS student resources and ensure students are all set with things like good wifi, plentiful software, high performance computing (HPC) resources, strong cybersecurity safeguards and user-friendly mobile apps to support their studies. And…we'll have donuts and fun giveaways!
Time: 9am-3pm
Place: Mac Lab at the Bridge in ZSR.
Wednesday, October 26: Academic Coaching Day
Wake Up Wednesday with Dr. Shea
Kick off your Wednesday with Dr. Shea Kidd Brown, Vice President for Campus Life, and members of the CLASS staff.
Time: 8:45am – 9:30 am
Location: Outside ZSR Library
"G Chat" with the Women's Center: "With a Little Help from My Friends: Exploration of the Use of Academic Support Services"
Join us for a discussion group and lunch with Dr. Jackie Friedman.
Time: 12noon
Location: Women's Center
CLASS Café
Meet all the coaches at CLASS Cafe, a pop-up cafe with seasonal treats and fun conversation. Open to students, faculty, and staff.
Time: 3:30pm-5pm
Location: on the quad near Reynolda Suite 118
Thursday, October 27: Peer Tutoring and Help Centers Day
"Rebound from Setbacks: Academic Resources & Resilience Carnival"
Join us for inflatables, a photo booth, snacks, games, tutors, and great information!
Time: 1pm-4pm
Location: Manchester Plaza (rain location 2nd floor gym Sutton Center)
Friday, October 28: Office of Academic Advising Day
"Q&A with an SA (student advisor)"
Join the Office of Academic Advising and student advisors. Bring your questions about registration and course planning!
Time: 11am – 2pm
Location: Just outside Reynolda Suite 125